Specials
Tuesday - Buy any size Pizza at Regular Price, Get 2nd Same-Size Cheese Pizza for $6.99
Wednesday - 14" Pepperoni Pizza for $8.99
Thursday - Buy 1 Dinner at Regular Price, Get 2nd Dinner for $6.99
Friday - Lunch Buffet / Dinner Buffet
Saturday - "Family Special" 2 Large 1 Topping Pizza & 2 Appetizers for $34.95
Sunday - Large 1 Topping Pizza for $11.95
Specials Coupons
We offer coupons for monthly specials on pizzas and other dinner items. You can download and print our coupons from this page.
Click on the image below to view and print coupons.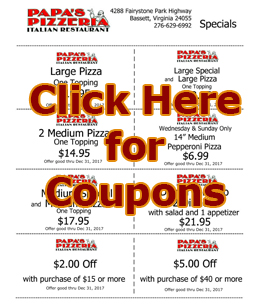 View & Print Coupon Sheet
Seafood Specials
Ask about our seafood specials for shrimp, salmon, flounder, and catfish.